We work with leading researchers to produce the best available evidence. But we are more than just a research centre: we bring decision-makers, researchers, practitioners and academics together to turn evidence into action.
In this section you can browse our practice examples from across the UK..
Wellbeing in policy and evaluation
Click on the plus signs on the toggles below to explore recommendations for wellbeing evidence in action
Wellbeing in policy
Over 50 years of wellbeing research and analysis suggest that we can improve wellbeing by focusing on
Mental health and social & emotional skills 

treat mental ill-health as professionally as physical ill-health
support parents in their parenting, their relationships and mother's mental
health
building social and emotional skills in schools and work

skills such as  character, resilience, empathy, self-control, perseverance, gratitude & savouring, cope with shocks
Community

promote volunteering and giving
address loneliness
create a built environment that is sociable and green

opportunity to know neighbors but give choice about amount of contact, shorter, better commutes
connection to natural world, green & blue spaces and natural light, reduce environmental stressors like noise & pollution
Income and work

promote balanced, stable economic growth

allows investment in health & welfare to protect us, gives choice and free time for leisure, arts and education

aim for stable employment and low unemployment

jobs with purpose, challenge, income and good social connections

more wellbeing at work

clear expectations, reasonable freedom, control & agency, consultation, support, recognition & opportunity, reasonable work life balance for time with friends, family and for leisure.
Governance 

Treat citizens with respect and empower them more

Devolve power and control, consultation,  increase trust in our collective institutions, reduce corruption
dignity, agency & control, reduce hassle of bureaucracy, better feedback loops for services, faster less contracted legal process especially for children and families,

Measure wellbeing as a policy goal
Give citizens the wellbeing data they need
Evaluating wellbeing
Check out our Guide to Measure your Wellbeing Impact
The steps below are a helpful outline of approaching evaluation of wellbeing, and are adapted from the NESTA standards of evidence.
How to establish what works?
1. Know what you want to achieve, what you do and why it matters
2. See if there is a change by capturing data
A good first step is to add measurement of wellbeing impact into projects, measuring wellbeing before, after, 12 months after. The techniques exist and although they are new, imprecise and evolving we will get better at it but we need to start using them.
→ Adding Subjective Wellbeing to Evaluations guide from the Social Impact Task Force
→ How to include personal wellbeing questions in your survey from the ONS and our guidance on measuring wellbeing impact
Test out small things not just overall programmes – which parts make the difference?  Can it be shorter or longer?
When the learning about what works is embedded into activity policies and projects will be set up to collect evidence as you go along.
Do include costing information so you can establish cost effectiveness of the impact generated.
3. Understand if your project is causing the change using a control or comparison group
Robust methods to isolate the impact include using a control group, random selection and a sufficiently large sample.
We really like the Test, Learn, Adapt approach set out here by the Behavioural Insights Team, Ben Goldacre, author of Bad Science, and David Torgerson, Director of the University of York Trials Unit.
We also really like Randomise Me, an online trials generator a free easy to use online tool to create your own randomised controlled trial (RCT) also with Ben Goldacre, Better data and Nesta.
→ If you are a charity already including this measurement and thinking about how to do an economic evaluation of what you do, or a programme you deliver, pro bono economics may be able to help.
→ If you're in the civil service, the Trials Advice Panel can help set this.
4. Understand if the impact can be shown repeatedly
Your findings can be validated by having one or more independent replication evaluations that confirm your impact. This could include endorsements or industry standards. This needs standardised processes etc.
5. Show that your project or approach can be scaled up and used by others with the same outcome
Manuals, systems and procedures ensure that the project/approach can be consistently applied by others with the same positive impact.
6. Continuously learn from practice
Sustained high performance needs action, purpose, enjoyment and, crucially, continuous learning. Learning is also important to wellbeing. Evaluation of impact is one way to learn. You can also learn from:
→ your own practice using continuous improvement, reflective practiontioner and work based learning approaches.
→ what others are doing – see our practice examples below
Practice examples
Have a look at organisations across the UK who are trying to improve wellbeing through evidence-informed policy and practice.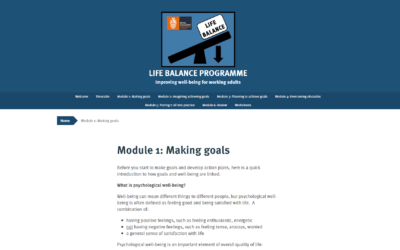 One way to improve the wellbeing of working adults is to provide brief training in setting and pursuing personal life goals. This was proven in a recent randomised controlled trial of a new online training programme developed at Royal Holloway University of London, involving 330 public sector employees across the UK. Participants reported improved wellbeing (greater life satisfaction, more positive emotions, less negative emotions, and a greater sense of purpose) five weeks after starting the programme and three months later.
read more