April 2023
Business Leaders' Council: Finding and keeping work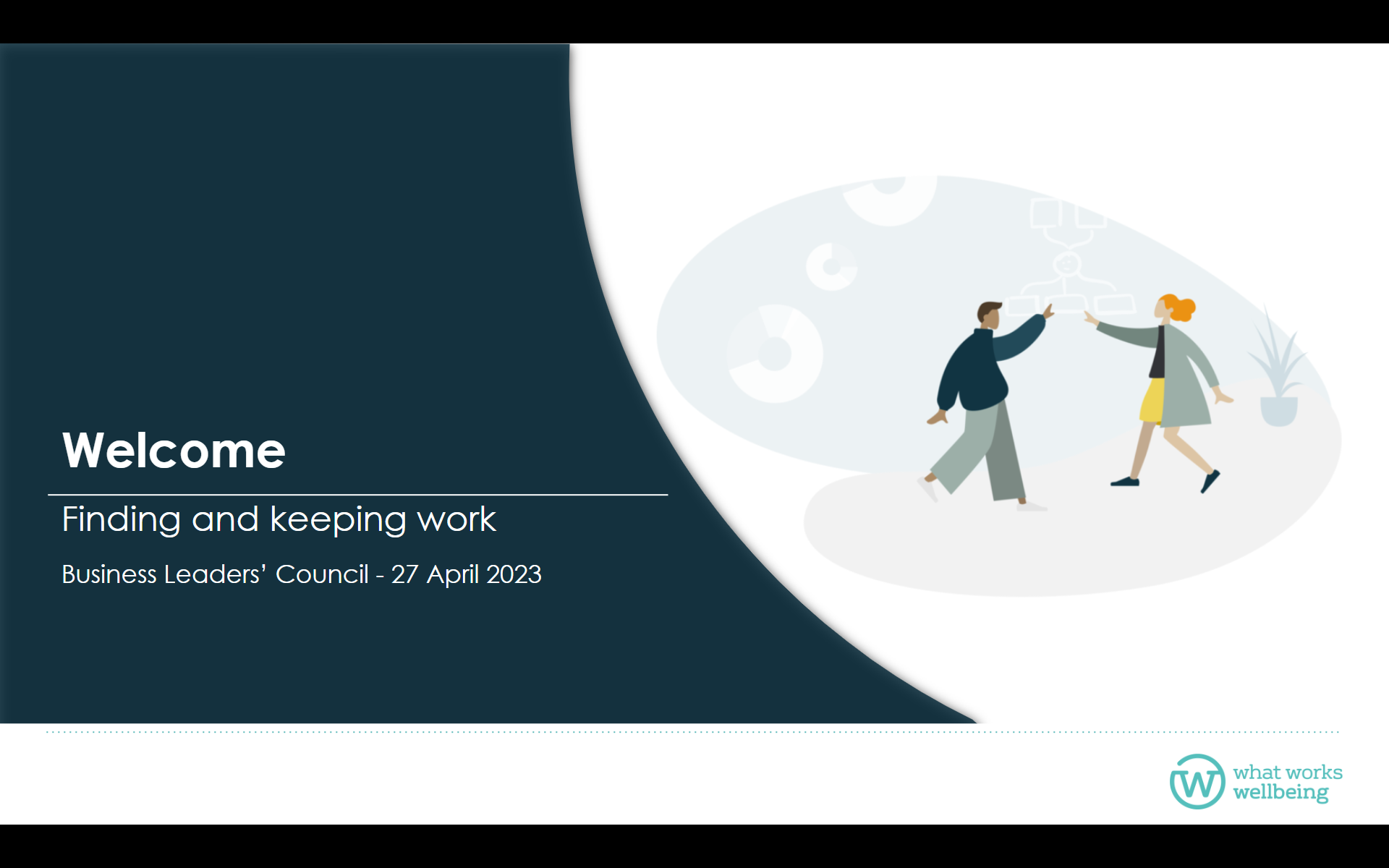 At this Business Leaders' Council event, a panel of experts explored how employers and policymakers can support people to find and keep work across the life course to ensure the sustainability of the UK workforce.
The webinar was chaired by Nancy Hey, Executive Director of What Works Wellbeing. Nancy was joined in discussion by:
Chris Goulden

, Director of Impact and Evidence, Youth Futures Foundation

Dr Fiona Aldridge

,

Head of Insight and Intelligence, West Midlands Combined Authority

Kim Chaplain

, Specialist Advisor – Work, Centre for Ageing Better
What Works Wellbeing
Youth Future Foundation
West Midlands Combined Authority
Centre for Aging Better
Q: Do too many employers and recruiters put too much expectation on new young employees to be fully formed? At one time employees didn't expect young employees to be productive and profit making until after a few years of employment.
A: When young people enter the labour market are paid less exactly because they do not have the experience. It is also more frequent that they change their jobs. I don't think it's helpful to assume / take for granted that young people move more often; instead work to improve their retention through the same practices as for other employees: clarify expectations from both sides and deliver on the promises made when hiring.
Q: Is there a place for public sector bodies to directly employ inactive people, support them into work and to support and develop them until they feel able to move into private sector employers (and private sector wants them)?
A: There are levers – such as wage subsidies for employers to employ young people – that can incentivise / deal with some of the real and perceived costs of taking on young people with barriers or a lack of experience. On the job training & apprenticeships are really important tools that employers / govt have at their disposal to make further positive impacts. And a lot of potential to do more here. We are restricted to England… but interested in learning from Scotland where it exists and our online resources are free to anyone of course…!
Q: I would be interested to hear thoughts on how to be more carer friendly as we do have a #carerechallenge and many are forced to leave jobs as well struggle to get jobs again after caring role ends and may have own health issues too #carerscount2 thank you
Live answered
Q: What can workplaces with limited financial and human capacity resources do, such as small to medium sized enterprises (<250 staff), perhaps without even human resource departments? These employ the majority of the UK workforce. Many workplaces have health and wellbeing champions and leads without any experience in health and wellbeing. Yet much business engagement is big employers.
Live answered
Close
section

Sign up to our weekly e-mail list
Sign up to receive resources, insights and evidence as they are published.