August 2020
Wellbeing in policy: exploring issues of measurement and methodology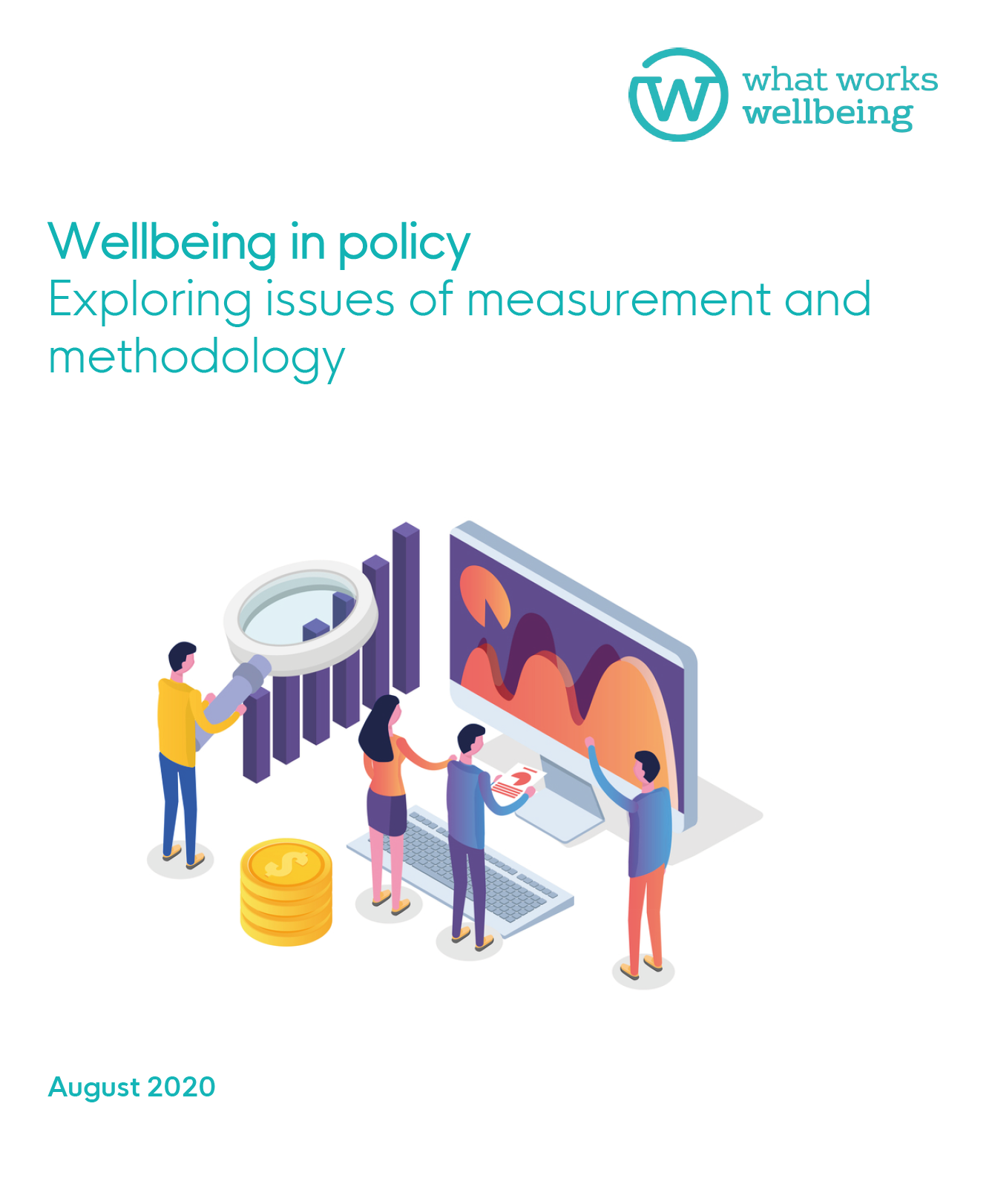 Introduction
The What Works Centre for Wellbeing promotes wellbeing as the ultimate goal of government. We develop and share robust and accessible evidence on what works to improve wellbeing, so that policies, programmes and projects can be designed and put in place in a way that can enhance wellbeing in the UK.
This is consistent with the UK Government approach to policy and spending decisions.
UK Government analysts use the guidance contained in the Green Book to consider the costs and benefits associated with any policy, in order to inform policy decision making. The Green Book now explicitly recognises the value of using wellbeing evidence to capture the direct and full range of impact of a policy. In practice however, the use of wellbeing evidence and measures in policy appraisal and analysis is still experimental and immature.
"Economic appraisal is based on the principles of welfare economics – that is, how the government can improve social welfare or wellbeing, referred to in the Green Book as social value."
The Green Book: Central Government Guidance on Appraisal and Evaluation
This Working Paper is drawn from Frijters and Krekel [2], which is a broad publication that pulls together some of the history, frameworks, metrics, data and methodologies relating to the application of wellbeing evidence. It is intended for use primarily by policy analysts seeking to apply a practical wellbeing approach to policy appraisal and evaluation.
The What Works Centre for Wellbeing supports the authors' view that wellbeing should become a systemic policy evaluation metric, based on wellbeing literature and incorporated in government's guidelines and trainings. This will further the application of a wellbeing approach for daily policy-making in the UK.
This working paper focuses on three key insights from the work of Frijters and Krekel:
Validity and practical application of subjective wellbeing measures
How to structure a cost-effectiveness analysis for wellbeing
Outstanding research questions
Close
Introduction
Validity and practical application of subjective wellbeing measures
How to structure a cost-effectiveness analysis for wellbeing
Outstanding research questions