Jul 21, 2021 | by Christian Krekel
Book Launch – A Handbook for Wellbeing Policy-Making
We recently hosted the launch of 'A Handbook for Wellbeing Policy-Making' by Paul Frijters and Christian Krekel, published by Oxford University Press. 
The book pulls together some of the history, wellbeing frameworks and methodologies that policy analysts can use to apply a practical wellbeing approach to policy appraisal and evaluation. It is a useful read ahead of the Government Economics Service launch of the Valuation of Wellbeing Supplementary Guidance for the Green Book later this month.
The launch webinar attracted over 130 scholars and practitioners from the UK and across the world to explore the opportunities and challenges inherent in embedding a wellbeing perspective within government.
Chaired by the Centre's Nancy Hey, it began with an introduction to the book given by Professor Lord Richard Layard (Centre for Economic Performance, LSE) and a discussion of the state of wellbeing in policy-making in UK Government by Sara MacLennan (Government Economic Service). 
This was followed by a panel discussion and lively Q&A session with Professor Liam Delaney (LSE), Dr. Tera Allas CBE (McKinsey), Professor Andrew Oswald (University of Warwick), and Professor Carol Graham (Brookings Institute), moderated by the Director of the What Works Centre for Wellbeing, Nancy Hey. 
Chrstian Krekel gives an overview of the main ideas in the book below…
---
The Handbook for Wellbeing Policy-Making makes the case for wellbeing as the goal of government. It is primarily targeted at the public sector, including government departments and agencies, regional governments, and local councils. It shows how wellbeing measures and knowledge can improve what the public sector does, but it is also a read for everybody who enjoys thinking about the reality of policy-making.
The book has three key propositions:
1. To be useful for policy-making, there needs to be a clear wellbeing measure for individuals and the population as a whole. The book advocates that this is life satisfaction, which is derived from the answer to the survey question: "Overall, how satisfied are you with your life nowadays?" It is a ten-point scale, whereby 0 is "not at all" and 10 is "completely". A WELLBY is defined as one unit of life satisfaction for 1 person for 1 year.
2. There are limited public resources, implying that the key metric for any policy is wellbeing cost-effectiveness, i.e. £-per-WELLBY: the lower that number, the higher the wellbeing cost-effectiveness and the better the policy.
Figure 1: Wellbeing Cost-Effectiveness of Various Policies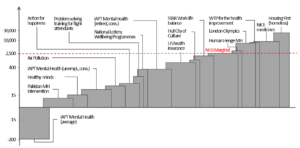 Source: Frijters and Krekel (2021).
3. There is a large body of scientific evidence on wellbeing. It suggests four key drivers.
Basic comforts: food and water, housing, safety and security, etc., which are typically found in countries with welfare states.

Unexpected experience goods: these are goods and knowledge that improve wellbeing but that people themselves are sceptical about: altruism (in particular situations) and pro-sociality, socio-emotional skills and mental health services, absence of air pollution, etc. The job of the state is to find out what works and then deliver or regulate that sphere. This is where the low-hanging fruit in terms of wellbeing for policy-making is.

Status: individuals are in a status race with each other. The job of the state, and in particular education, is to orient that race towards activities that are good for the collective: gainful employment, pro-social activity, tax compliance, etc.

Belonging: above all, people are social animals and need warm relationships. The state sets the ecology in which groups and relationships form. It needs to give permission, regulate bad group behaviour, set up particular groups, provide information so that people can find the right groups, provide an overall positive narrative about the country as a whole, etc.
If the maximisation of wellbeing is the ultimate goal of policy, wellbeing measurement must be embedded within the public sector and supported by a process which ensures that the latest wellbeing research and thinking can continually inform policy-making and appraisal. This book contributes a practical approach to making this happen. 
A Handbook for Wellbeing Policy-Making can be purchased on the Oxford University Press website.  
Find out more
Watch the webinar and read our working paper that pulls together some of the book's key highlights.