About Dying Well
Wellbeing matters for everyone at any stage of life, and the end of life is no exception. We want to understand what matters to people with terminal illness and how society can support their wellbeing as long as possible. The evidence about what matters is spread across academia, policy and practice, and we want to bring people from across these fields together to share their learning.
Together we will:
Make the case for putting wellbeing at the heart of palliative and end of life care and services, especially in Advance Care Planning conversations
Provide a space for practitioners show their experience and insights of putting wellbeing the heart of hospice and palliative care
Showcase research that can help policy makers and practitioners design better, wellbeing-focused services
Bring together a collaborative network of interested practitioners, policy makers and researchers to share learning and ideas
To join the Dying Well network email joanne.smithson@whatworkswellbeing.org
To stay up to date with the Centre's work sign up to our evidence alerts.
Dying Well is a collaborative programme of work in partnership with Clair Fisher. Read Clair's blog on how wellbeing evidence can improve the lives of people with terminal illness.
Dying Well Conversations
This is a series of conversations about wellbeing and terminal illness which took place in April and May 2021. We are bringing together practitioners, academics and individuals to talk about what really matters to people with life-limiting or terminal illness, and how to develop support which puts their wellbeing – and that of their families – at the heart.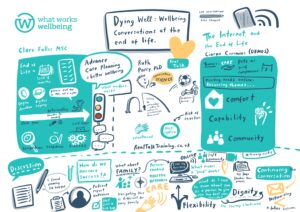 27.04.2021 – Conversations at the end of life
We'll be publishing a series of blogs from research, policy and practice on wellbeing and terminal illness. If you have a study, story, or project to share please get in touch!
Watch this space for a podcast too.